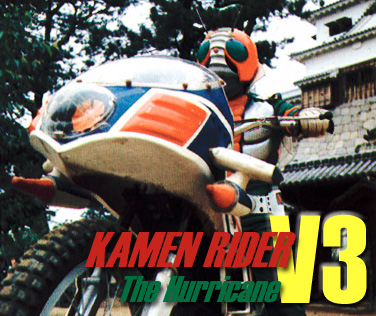 | | |
| --- | --- |
| Maximum Speed | : 600 kilometers per hour |
| Maximum Output | : 300 horsepower |
| Jumping Distance | : 100 meters (with Rocket Boosters) |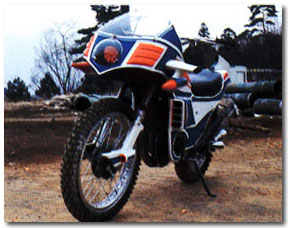 A Kamen Rider is inseparable from his motorbike. Whereas Riders No.1 & No.2 adopted the CYCLONE and the No.2 CYCLONE (and later, NEW CYCLONE), Kamen Rider V3's indispensable partner is known as the HURRICANE. The Hurricane was created by the Double Riders, using the technology of their Cyclone motorbikes.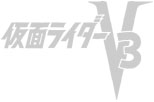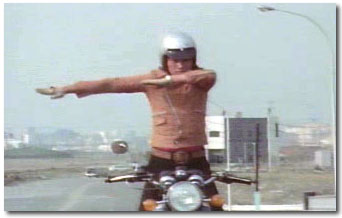 Kazami Shiro and the Hurricane are connected by a sychronistic link. Not only does this allows the Hurricane to locate and home-in on his proximity, but the superbike can also save Kazami when in danger. Kamen Rider V3 can call his steed to his side by calling, "Hurricane!" When Kazami Shiro transforms into Rider V3, the Hurricane transforms simultaneously.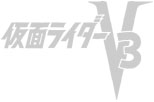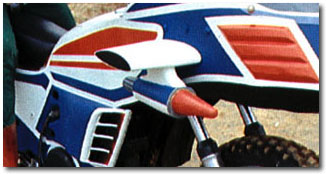 A pair of small mounted wings which support the Booster Rockets are located on the front ferring of the Hurricane - these can retract when on land, and spread when jumping into the air - used to aid mid-air manuevers and limited flying/gliding abilities. These wings can also tear a Destron Mutant asunder.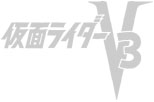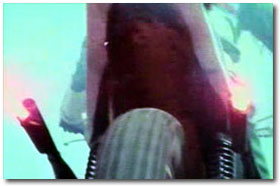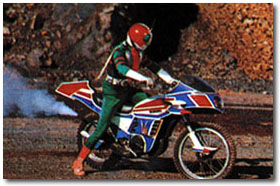 The Hurricane can accelerate to ear-deafening speeds - made possible by a pair of flaming exhaust pipes located at the tail end.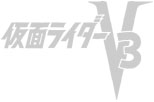 There are 3 seperate phases of speed, indicated by the changing color of the "Typhoon" within the front of the farring: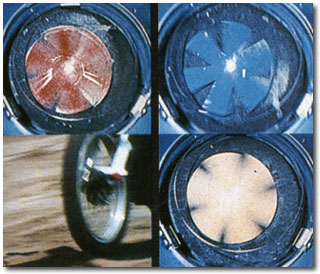 | | |
| --- | --- |
| Blue | : 200 km |
| Yellow | : 400 km |
| Red | : 600 km |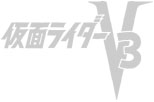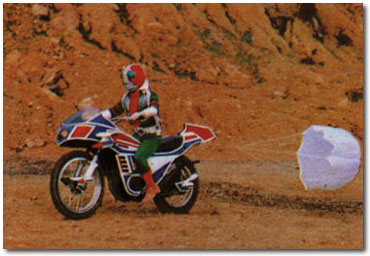 The Hurricane can control its braking speed by ejecting a Braking-Chute from its tail end.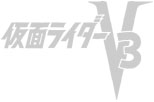 Kamen Rider V3 can perform an array of fatal moves in conjuction with the Hurricane: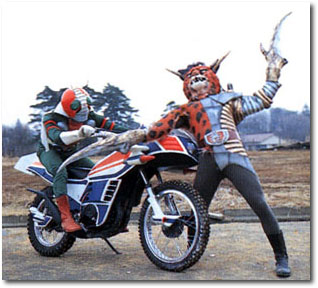 Big Sky Punch (Biggu Sukai Panchi)
Big Sky Kick (Biggu Sukai Kikku)
Hurricane Dash (Harriken Dasshu)
Hurricane Last Dash (Harriken Lasto Dasshu)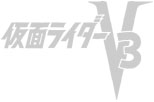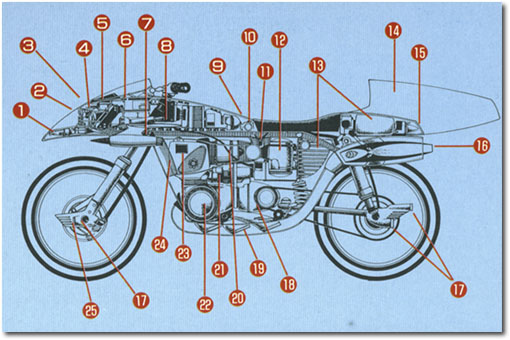 | | | | | | |
| --- | --- | --- | --- | --- | --- |
| 1. | Pinpoint Search Radar | 2. | Typhoon | 3. | Infrared Tracking Circuit |
| 4. | Monitor Camera | 5. | Variable Spectrum Light | 6. | Computer System |
| 7. | Booster Rockets | 8. | Wings | 9. | Stabilizing Gyro |
| 10. | Airduct | 11. | Sensors | 12. | Nobel Gas Tanks |
| 13. | Jet Fuel Tanks | 14. | Stabilizing Rudder | 15. | Rearview Circuit |
| 16. | Jet Nozzle | 17. | Balance Stabilization Exhausts | 18. | Gearbox |
| 19. | Main Air Exhaust | 20. | Primary Turbine | 21. | Generator Circuit |
| 22. | Secondary Turbine | 23. | Atomic Hearth | 24. | Air Intake |
| 25. | Reverse Exhaust Nozzel | | | | |