Thank you for taking the time to visit my Kamen Rider V3 Home Page. During my childhood in the 70's, Hong Kong was flooded with Japanese television such as Robocon, Mazinger Z, and Kamen Rider. To this day, these Japanese heroes are remembered by many who are already in their 20's or 30's. Toys that were produced during that era are now sold at astronomical prices - the demand for repossessing a glimpse of childhood can be found everywhere.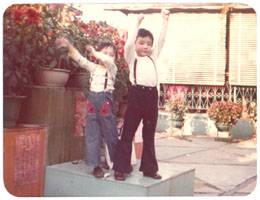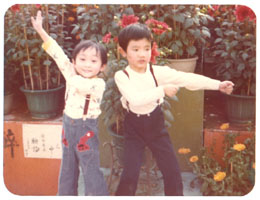 My most valuable memorabilia of Kamen Rider - childhood photos of me (pictured right) with my cousin



I am fortunate to collect the entire TV series of Kamen Rider V3 (including the V3 Movie) - sold on VideoCD here in Hong Kong. This website is a modest attempt of sharing the joy and excitement of reviving my childhood memories!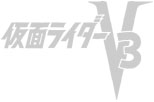 I'll like to take this opportunity to thank the following people for contributing to the Kamen Rider V3 Home Page:-


August Ragone. Most of the text found in the Kamen Rider V3 Home Page are credited to August. August has provided us with the most important element of any website - the content. His work includes (but not limited to) the translations to the Music Station, the Episode List, the 26 Secrets of V3, the Hurricane, plus the Destron files. Without his selfless contribution, this site would contain but a few lifeless images. Cheers, August!


My Beautiful Wife - for producing the videos in the Video Room, and buying all the Kamen Rider toys that I can't afford!


TOEI Co., Ltd. For allowing me to host these pages. The Kamen Rider V3 Home Page is an unofficial, non-profit website. Please DO NOT use any of the pictures or text found in these pages on your own website, or to promote the sale of your copied videos.


Everyone for visiting the Kamen Rider Rider V3 Home Page. Your support is the only reason why I continue to host these pages - to know that there are still so many V3 fans across the world! Please visit the Kamen Rider V3 Forum and show your support!






And of course, the late Ishinomori Shotaro for creating the Kamen Riders. Please visit some great Kamen Rider pages created by his fans.







Try Igadevil's Kamen Rider Page for the latest Kamen Rider news: